TO GIVE IS TO RECEIVE: HOLIDAY GIFTS THAT GIVE BACK
Giving a meaningful gift is something that people always treasure, but what can make a gift even more special and meaningful is giving one that gives back with doing good for others. Shape Mags, Finn + Emma, Isabelle Grace Jewelry and Lorena Canals have fun and stylish gift ideas that do just that.
Shape Mags
Shape Mags are innovative magnetic tile building sets that allow little builders to create castles, bridges, trains, buildings, pyramids, rockets, their name, the possibilities are endless.  Shape mags come in train track sets, gates and fences, frames, arches, windows, doors, vehicle bases, and much more.  Shine a flashlight through their magnetic structures to explore shadows and color. Or, try building in the window or on the overhead projector to create a colorful reflection and great hands-on learning fun. Kids are only limited by their own imagination to put together a morning or afternoon of creative fun.  And if they need a little help coming up with ideas, Shape Mags building sets also includes instructions that provide a wide variety of visual examples.
Shape Mags has partnered with Chai Lifeline, an international health support network that helps families with children with serious illnesses and cancers. Shape Mags is donating .25 per every follow people make on Chai Life social media accounts.
Shape Mags are compatible with other magnetic tile brands making it easy to add on to your child's existing collection, but offers a wider selection of tile shapes. Let your imagination and creativity flow wherever you go as each set is self-contained in a handy carrier box! It's great for a wide age range, kids, and teens and even for adults! It's just too much fun to put down. Recommended for ages 3+. Sets start at $24.99.
Not only will your kid(s) adore Shape Mags, but secretly so can you, resting easy in the knowledge that these simple blocks are helping your child. Shape Mags stimulate right side brain training through construction and assist your child with spatial problem-solving tasks, pattern recognition, motor skills, logical thinking, and math reasoning while at the same time promoting creativity. Shape Mags will be a valuable part of your child's cognitive development!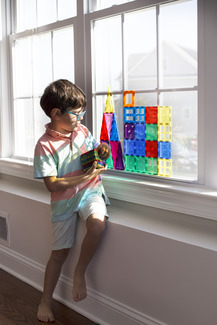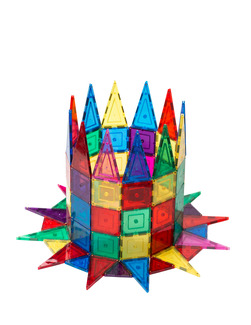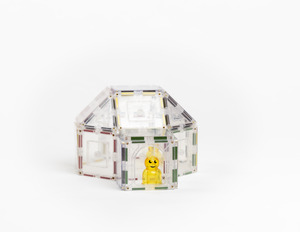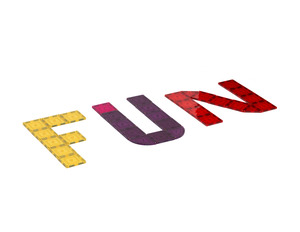 Finn + Emma
Recently voted amongst the "10 Best Sustainable Baby Brands" by Vogue magazine, Finn + Emma recently introduced their new Fairytale and Totem collection joining their existing organic apparel and toy collections, which include their Do-Goodies are made of upcycled scraps of Finn + Emma products and are squishy, soft and hand-sewn in the USA. They retail for $24.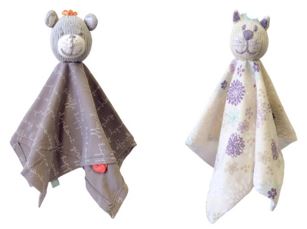 A portion of the purchase will be donated directly to KaBOOM!, a national non-profit dedicated to giving kids the childhood they deserve, filled with balanced and active play so they can thrive. 
Finn + Emma is a land where sustainability, fair trade, and organically grown cottons live. But Finn + Emma collections aren't just sustainable, they are also contemporary, whimsical, and sophisticated. No boring designs and toxic chemicals here, just an abundance of fresh prints and heirloom quality construction. Only the finest 100% organic cotton, eco-friendly dyes, and all natural, untreated Indian wood will do for your little munchkin. All cotton is from India and Peru with G.O.T.S. Certified Cotton. Going organic limits your little one's exposure to petrochemicals, acrylic, PVC and esters often found in synthetic fibers and non-organic cotton that have been linked to a variety of health problems. Parents and babies alike can't help but fall in love with this extraordinary baby brand!
Visit them online at www.finnandemma.com.
Isabelle Grace Jewelry 
 
The day an adopted child enters their lives is an amazing day that changes the parent's lives forever. Celebrate and cherish that special day with the Hello Sunshine Necklace and a portion of the purchase will be donated to the National Adoption Council.
 
Featuring a beautifully handcrafted sterling silver sun charm with the message "Oh Happy Day" on the front and "When You Came" on the back, this precious piece is sure to make you smile. To make it extra special, a Petite Initial can be added to always keep them close to your heart. The Hello Sunshine Necklace starts at $130.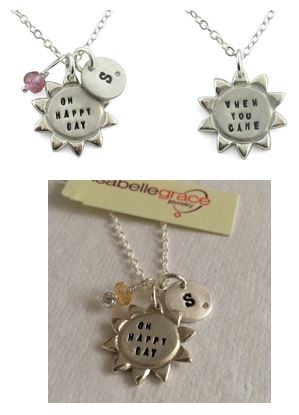 The following precious designs from Isabelle Grace Jewelry donate a portion of proceeds to the American Cancer Society.

At some point in our lives we have an epiphany about our life or an aspect of it, and it motivates us to realize something about ourselves or to make a change and do something or go for something that will make us happy or help us achieve a goal or dream.
 
The Epiphanies Collection is all about celebrating those life-changing moments and embracing the journey they bring. Each selection retails for $72. The collection includes the Believe Necklace, the Fearless Necklace and the Hero Necklace.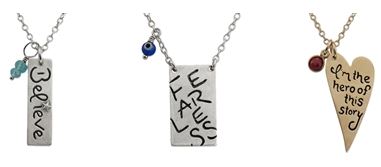 The Hearts Alight Collection ($76 each) features a classic heart-shaped Swarovski crystal made radiant with star faceting. We suggest the Vintage Rose, Fuchsia or Crystal Rose Gold. 
 

 
The Blush Rose Swarovski Stackable Gemstone Bangle ($36) features stunning 8mm Swarovski chatons that are hand set into a silver or gold-plated bangle. The stones are approximately 1.5 carats.
 

 
The Rose Gold Hammered Bar Necklace ($46) is a great way to show a symbol of sisterhood and solidarity in the fight against cancer with the color pink being a symbol of both.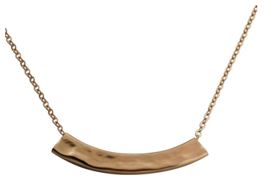 The LaPunta Necklace in Rose Gold and White($68) is the perfect way to bring edge and elegance to your everyday wardrobe with a dazzling spiked Swarovski bead accented with decorative barrel beads hung on a rose gold chain.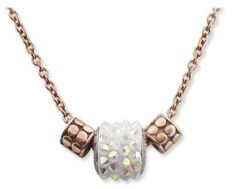 The Rose Gold Floating Initial Necklace ($32) is another great way to wear pink and the symbol of sisterhood and the fight against cancer, personalized with your initial of choice.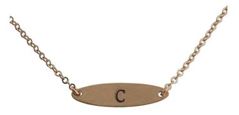 Known for its personalized necklaces seen on many celebrity stars – including Camila Alves, Katherine Heigl, Tori Spelling, Alison Sweeney, Kimberly Williams-Paisley and Victoria Justice, to name just a few – Isabelle Grace Jewelry makes simple, beautiful, and elegant pieces inspired by the most important things in life.

Lorena Canals
 
Lorena Canals eco chic cushions are machine-washable and easy to clean. Each cushion is individually, carefully hand crafted with artisans making each one unique and no two are alike. They are made from all natural cotton, non-toxic dyes, and are soft and comfortable.  Choose from a multitude of whimsical and stylish designs including stars, hearts, dots, clouds, and more.
 
Lorena Canals is also socially responsible and finances the education of over 100 children in northern India by donating a portion of each sale to a local nursery and school, giving those children the opportunity to decide their own future. Visit them online at http://lorenacanals.us.