When you have a baby or a baby enters your family, it can be a challenge to decide to give a meaningful gift. Books, toys and clothes are common gifts, but you want to give something that stands out, that the baby can have for their entire life. What is a great gift for that special little one in your life?
Isabelle Grace Jewelry is unique
, wearable jewelry that celebrates life, love and family. These beautiful pieces are crafted by hand, are sustainable and provides a lifetime of wear, enjoyment and appreciation. These handstamped personalized pieces are a treasure! Celebrities such as Katherine Heigl, Lindsay Price, Tori Spelling, Courtney Mazza Lopez and Alyson Hannigan love Isabelle Grace Jewelry and so will you!
Get the first letter in your child's name engraved next to a piece that exemplifies your little one. We choose a ballerina for the special ballerina appreciator in our life. There are so many different designs that you can choose for your child that represent their hopes, dreams, likes or hobbies. Complete with the first letter in her name, this is not only a coveted piece of jewelry to a little girl but a keepsake!
If you are a godparent, grandparent, parent or friend, this can be the perfect gift to give that special lifetime present to the special baby in your life. That being said, it is also a keepsake stating the bond that you have with this little one.
Isabelle Grace is not only for newborns! Choose a piece that best describes the special little one in your life, honor/honour that special relationship between siblings and get a matching set or get a matching set between best friends. There are so many options! There are also timeless pieces for parents too! Mother and child would be a beautiful testament to that amazing bond.
The day an adopted child enters their lives is an amazing day that changes the parent's lives forever. Celebrate and cherish that special day with the Hello Sunshine Necklace and a portion of the purchase will be donated to the National Adoption Council.
 
Featuring a beautifully handcrafted sterling silver sun charm with the message "Oh Happy Day" on the front and "When You Came" on the back, this precious piece is sure to make you smile. To make it extra special, a Petite Initial can be added to always keep them close to your heart. The Hello Sunshine Necklace starts at $130.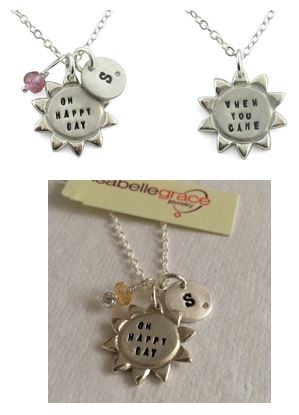 The following precious designs from Isabelle Grace Jewelry donate a portion of proceeds to the American Cancer Society.

At some point in our lives we have an epiphany about our life or an aspect of it, and it motivates us to realize something about ourselves or to make a change and do something or go for something that will make us happy or help us achieve a goal or dream.
 
The Epiphanies Collection is all about celebrating those life-changing moments and embracing the journey they bring. Each selection retails for $72. The collection includes the Believe Necklace, the Fearless Necklace and the Hero Necklace.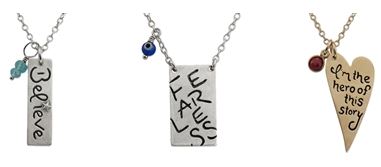 The Hearts Alight Collection ($76 each) features a classic heart-shaped Swarovski crystal made radiant with star faceting. We suggest the Vintage Rose, Fuchsia or Crystal Rose Gold. 
 

 
The Blush Rose Swarovski Stackable Gemstone Bangle ($36) features stunning 8mm Swarovski chatons that are hand set into a silver or gold-plated bangle. The stones are approximately 1.5 carats.
 

 
The Rose Gold Hammered Bar Necklace ($46) is a great way to show a symbol of sisterhood and solidarity in the fight against cancer with the color pink being a symbol of both.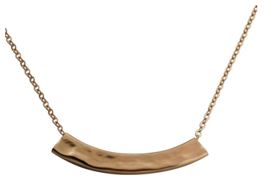 The LaPunta Necklace in Rose Gold and White($68) is the perfect way to bring edge and elegance to your everyday wardrobe with a dazzling spiked Swarovski bead accented with decorative barrel beads hung on a rose gold chain.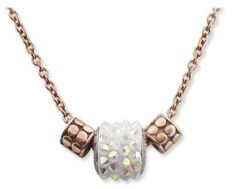 The Rose Gold Floating Initial Necklace ($32) is another great way to wear pink and the symbol of sisterhood and the fight against cancer, personalized with your initial of choice.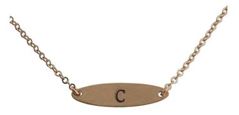 Known for its personalized necklaces seen on many celebrity stars – including Camila Alves, Katherine Heigl, Tori Spelling, Alison Sweeney, Kimberly Williams-Paisley and Victoria Justice, to name just a few – Isabelle Grace Jewelry makes simple, beautiful, and elegant pieces inspired by the most important things in life.


For that perfect gift, visit Isabelle Grace today.