August is here and we have two great stores to show you with wonderful children's clothes! We also have our lovely Blogger of the Month Mama@Heart. Jen is honest, dedicated to her readers (she answers your questions) and is filled with great information. We know she will continue to be a big success! Read on and discover our fabulous influencers from around the globe!
http://jentraynor.wix.com/mamaatheart
Twitter: @Mama_At_Heart
What inspired you to start your blog?
Writing has been a passion of mine for as long as I can remember. However, over the years I found that I wasn't writing as much as I used to. When I was on maternity leave with my daughter a couple of years ago I considered starting my own parenting blog but was a little apprehensive about going through with it. What if I didn't have enough good ideas to keep it going? What would make me stand out from all of the other mom blogs out there? Would anyone even read it? I ended up talking myself out of it but the idea never left my mind. Then, at the beginning of this year my sister-in-law asked me to write a guest blog for her health and wellness website and I thoroughly enjoyed the experience! I immediately found myself thinking about starting my own blog again and was so full of ideas! One Sunday afternoon I spent a few hours alone at a coffee shop and just wrote. The creative juices were flowing and so many ideas just came pouring out. Less than one month later Mama @ Heart was launched and I am loving every minute of it!
What is your blog about?
I mostly write about my own personal experience with motherhood. What inspires me, what challenges I face, my goals. I also share favourite recipes, write kid's book reviews, share life hacks and organizing tips.
What are you passionate about?
As I mentioned, I love to write! I also love reading, cooking and baking, watching movies, spending time with my husband watching our favourite TV shows or just chatting, and most of all my kids! I have a four year old son and two year old daughter. I love this stage they are at! They are learning so many things. I love hearing their stories! And I especially love hearing them laugh!
Where do you see your blog in five years?
Ideally I would love for my blog to become my full time job. I am still relatively new at blogging and still have a lot to learn and plan, but maybe one day I can expand my blog to larger audience. I also would love to see if I can write a book that is connected to my blog.
FELTMAN BROTHERS SAYS CHEERS TO 100 YEARS OF FAMILY TRADITION
The Family Company Celebrates Their 100th Anniversary
And Introduces Limited Edition Collector Doll
This year, Feltman Brothers is proudly celebrating its 100th Anniversary, having provided high quality, hand-embroidered clothing for baby boys and girls since 1916. All Feltman Brothers outfits have been created with the same workmanship and attention to detail since its inception. There is no replacement for the kind of hand-detailing used in their vintage styled baby clothing collection.
With this milestone anniversary, Feltman Brothers introduce the special 100 Year Collection to celebrate and honor its values and the well-known classic, neverending style.
Shower your baby in flowers and lace with the Floral & Lace DayGown ($56.50), Floral & Lace Take Me Home Gown ($74.50), Floral Bullions & Lace Bonnets ($25.95), Floral Bullions & Lace Dress ($66.50), Floral Bullions & Lace ($52.50), and the Floral Heart Pillow Top ($47.50), Receiving Blanket ($57.50) or Slip Dress ($87.95). Pictured left-to-right, top-to-bottom.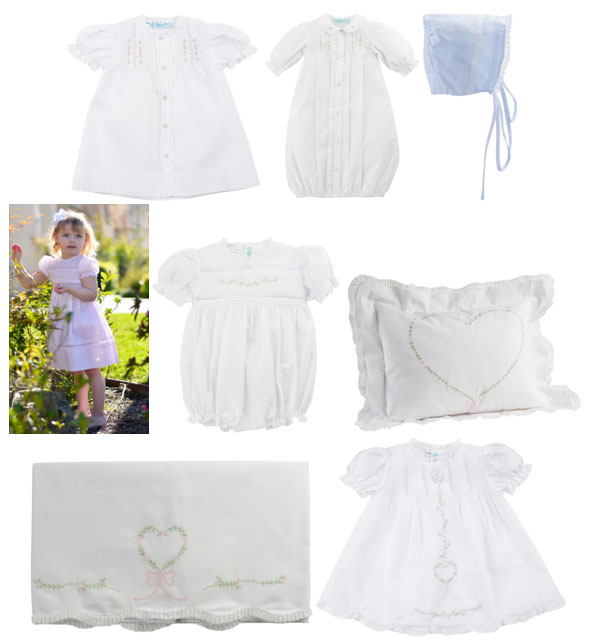 This special collection also features adorable pintuck and leaf prints such as with the Lace & Pintucks Bobby Suit ($67.50), the Lace & Pintucks Creeper ($63.50), the Leaf Daygown ($62.50), Take Me Home Gown ($62.50), the Leaf Pillow Top ($47.50), and the Leaf Receiving Blanket ($57.50). Pictured left-to-right, top-to-bottom.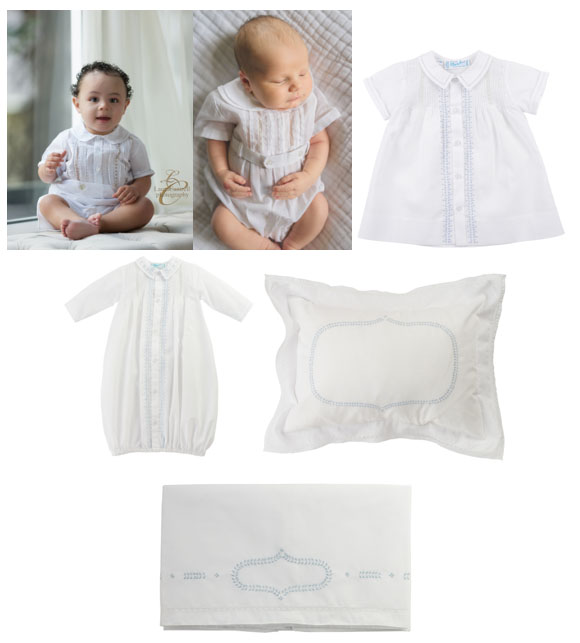 See the 100 Year Collection here.
Extra special just for the occasion are the 100 Years Boys Gift Set ($224.95) and the 100 Years Girls Gift Set ($244.95) that are a touching gift for new parents, each including an embroidered daygown or slip dress, booties, a matching pillow case, an embroidered receiving blanket, and a silver plated rattle in a white wicker basket. Pictured left-to-right.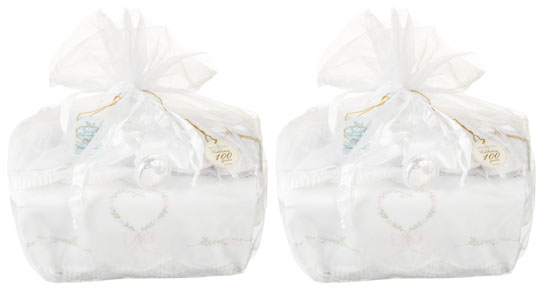 To celebrate this momentous milestone, Feltman Brothers is excited to introduce their very first limited edition collector's doll to be released in March. These beautifully designed dolls feature attention to every detail just like Feltman Brothers is known for. Choose from two versions of the collector's doll both dressed in Feltman Brothers clothing.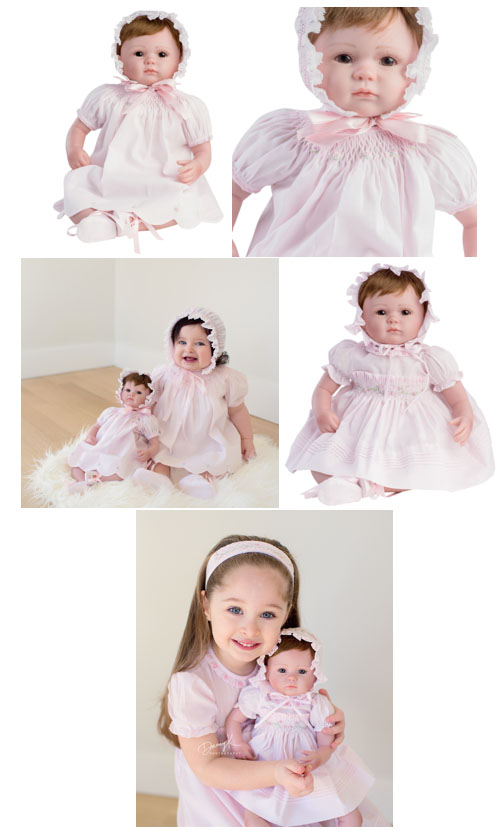 Every little girl will be thrilled to wear an outfit that matches her new doll! Peruse the selections here.
Feltman Brothers' heirloom classic baby clothing is steeped in tradition and history, yet the family company regularly introduces innovations in design and style that offers todays' parents and babies beautiful special occasion clothing for baby's first layette, take home outfits, christenings, newborn gifts, holidays, family or birthday parties. Your Feltman Brothers collection will be handed down from generation to generation and adored for a lifetime and beyond. Watch the history behind Feltman Brothers here.
Find more beautiful designs from Feltman Brothers by visiting www.feltmanbrothers.com. You can also follow Feltman Brothers on Facebook, Twitter, Pinterest and Instagram.
BETSEY JOHNSON LAUNCHES PREMIERE BABY COLLECTION WITH BABIES R' US
For AW16 Betsey Johnson brings fashionable moms everywhere a collection of children's clothing perfect for their sweet little ones! Available exclusively at Babies R' Us, the playful line boasts a variety of kitschy and cute pieces, allowing infants to shine.
Adding to Betsey Johnson's growing repertoire of fashion inspired categories, the new Babies R' Us collection captures all of the classic Betsey elements making baby a fashionista from birth. Deck your little one in some of the collections more punk rock elements like, faux leather vests, letterman jackets, faux fur accents, roses and leopard print; or keep it girly and fun with kissy-lip tutus, rose gold skirts, hearts, bows and plush puffer vests. Pieces come in matching sets helping any mom on the go coordinate flawless looks without hassle or fuss. The bright colors, fun graphics, and playful touches make the collection sweet but expressive, encouraging individuality and personality early on.
"I am thrilled to partner with Babies R Us on launching my first baby collection! I can't wait to see my designs on little kiddos everywhere," says Betsey Johnson
Available in Babies R' Us locations nationwide beginning in July 12th, sets are affordably priced ranging from $24.99 to $39.99.
About Betsey Johnson
Betsey Johnson started the label in 1978 and her commitment to remain true to her one-of-a-kind vision has afforded continued success in the fashion industry for the past 50 years. In 2015 Betsey received the CFDA Geoffrey Beene Lifetime Achievement Award. Starting in 2004, the Betsey Johnson label expanded as a lifestyle brand with the introduction of intimates, handbags and leather goods, footwear, bridal, kids, dresses, watches, jewelry, eyewear, swimwear, legwear, outerwear, luggage, fragrance, active wear and home. Today the distribution is in over 2,000 specialty boutiques and an established wholesale business in both domestic and international markets.