November is here and we have some great finds from around the world for you to love!
feltman brothers- shannon
We are thrilled to share news of the just-launched, limited edition children's capsule collection designed by COACH in collaboration with cult-favourite Parisian store, Colette.
Stork Bag
How did you come up with Stork Bag?
I came up with the Stork Bag in 2014 when I found out my dear friend was pregnant for the first time. She didn't have a pleasant 1st trimester and needed some advice on the type of products she could buy for morning sickness. She lived hundreds of miles away so I told her that I would create a care package with some of my fav pregnancy products and send them to her. I went to the Internet to find an already made pregnancy care package that I could just send to her as a special gift and keepsake. After searching around, I couldn't find what I was looking for so I decided to create a care package for her myself, I complied some of my go to products, some beauty products to make her feel good and found some awesome new pregnancy products. I decided to put her products in a reusable bag instead of just a cardboard box that I knew she would throw out, in hopes that she would keep the bag as a keepsake. Soon after my friend received her package, she called me saying how much she LOVED the gift. It was at that time that I told my husband that I wanted to create something like this for other moms-to-be. Within just a few weeks of product curation, The Stork Bag was born!
New parents often times do not know where to begin when they have their new baby. How does stork bag help expecting parents?
The Stork Bag totally takes the guesswork out of pregnancy shopping. Each Stork Bag and PostBump (postpartum) bag is packed with hand-picked, pregnancy and baby safe products from other mom-created/owned brands. We search for products that we know would be of value to our customers and only accept product inclusions after our team of moms sample the products. For new parents, they can rest assure that every product found in The Stork Bag and PostBump Bag has been mom approved!
Can parents subscribe to stork bag in later trimesters?
Yes, we have many subscription options for our expecting parents. One of the most popular subscription options for latter pregnancy is our 2 Stork Bags + PostBump Bag option. This option sends our customer a 2nd trimester Stork Bag, 3rd trimester Stork Bag and PostBump Bag for their postpartum period.
What can parents expect in their stork bag each trimester?
Our Stork Bags come with an assortment of products geared toward the customers current stage in their pregnancy. In our 1st trimester Stork Bag, we have products such as pregnancy journals, morning sickness aides, and refillable water bottles, 2nd trimester Stork Bags include products such as stretch mark creams, prenatal supplements, and pant extenders, 3rd trimester Stork Bags contain products such as belly casting kits, maternity accessories, and even teas to help gear the body up for "the BIG day". Lastly, our PostBump bag contains great postpartum products such as feminine pads, postpartum aides, great goodies for baby and beauty products for mom. Each of our bags are reusable and each come with great beauty and wellness products for mommy as well.
Can parents adjust products that are in their bag?
Our idea for The Stork Bag is for it to be the ultimate pregnancy care package so we curate products to match each trimester. At this time, all bags are pre-packed but we do give our customers the option to customize their PostBump bag to match their delivery (natural or cesarean) and feeding preference (bottle or breast).
Tell us about Mommy Tummys…
MommyTummys is our maternity t-shirt line. We come up with cute and fashionable maternity tees for mom-to-be and new mommies. One of our most popular tees from MommyTummys is our super cute and comfy, "Feed Me I Grow Humans" maternity tee.
Blogger of The Month: All Things Mom Sydney!
What inspired you to start your blog?
I'm a big fan researching and over analyzing everything (I think it comes from being part of a big family where you always discuss everything to its core and then some more) so when we moved to Sydney and I became a full time mom I was constantly looking for the best things to do with the kids.
I would spend hours researching where to go, what to do when we got there, where to park and whether there were toilets and coffee nearby – you know how moms need to make sure their bases are covered 🙂
After we'd been on our adventure I would relay the information back to people who were looking for things to do with their kids and our family overseas.
It seemed like a natural progression that our pics and notes should be on a forum accessible to other people who could benefit from it.
What is your blog about?
The blog is a mixture of reviews on family friendly places in Sydney and things I have learnt through this new journey of full-time parenting having just immigrated from South Africa.
There are so many aspects to life as a mom – being a mom, being a wife and being a person in your own right that I try reflect on all of these parts of who I am.
As a mom, there is so much I'm learning and I want to share these insights with the people that trust me and my writing so I often include posts about what I've learnt as a mom.
What are you passionate about?
I love love love my husband and my kids. After that it's my family – there is quite a few of us but we were raised to be close and I just love having them all around me.
After my family comes law. Don't even get me started on the topic because I can go on for hours about how important it is and how necessary it is for people to practice and implement the law in a manner that looks after the best interests of the most vulnerable members of society. I just loved being a human rights attorney and will return to it and to protecting children in need as soon as my children are ready for me to move on.
It probably seems illogical that I would then be blogging but for me it's been a very natural process. As I said I love the researching, I've always written (usually court papers and for newspapers and legal magazines) and I can talk the hind leg of a donkey so it's actually become a perfect realization of my skill set.
Where do you see your blog in five years?
This question frightens me, but in a good way. It frightens me because I'm pretty scared about vocalizing what I was from the blog and where I want it to go in case what I want doesn't happen.
I would love for the blog to be a trusted source of information about where to go and what to do in Sydney peppered with my parenting thoughts and the odd honest opinion on things I love. Administratively I would love to be joined by a small group of moms who I connect with and who share my desire to see, do and share.
HELLO SWEET BABY! FELTMAN BROTHERS IS HAPPY TO INTRODUCE THEIR SWEET NEW PIMA COTTON LAYETTE COLLECTION JUST FOR YOU
Introducing a new collection of Pima cotton designs that feature classic styles, in a fabric that is a soft as a baby's skin.

A trio of designs—little chick, blossom and sailor—make up up this new line from this company that is steeped in the traditions of old: excellence and quality workmanship. Feltman Brothers has combined their beautiful embroidered vintage stylings with baby-friendly functionality to create items for everyday comfort! These aren't pieces to be kept in the drawer for a special occasion but are meant to be used and appreciated for years, and generations, to come.
100% all natural pima cotton from Peru is the most durable, highest quality cotton grown. Feltman Brothers has stayed true to their standards for heirloom quality pieces to ensure that each item will last and last, through multiple wearings and washings.
From the moment you first see and feel the new Pima Cotton line from Feltman Brothers, you'll be captivated by the quality and details. Whether you're trying to find the perfect gift for a special baby shower or something for your own little sweetheart, you'll love the new Pima cotton collection for baby boys and girls.
Stunningly Soft Layette Styles For Baby
Baby Chick Design — Pima Cotton Collection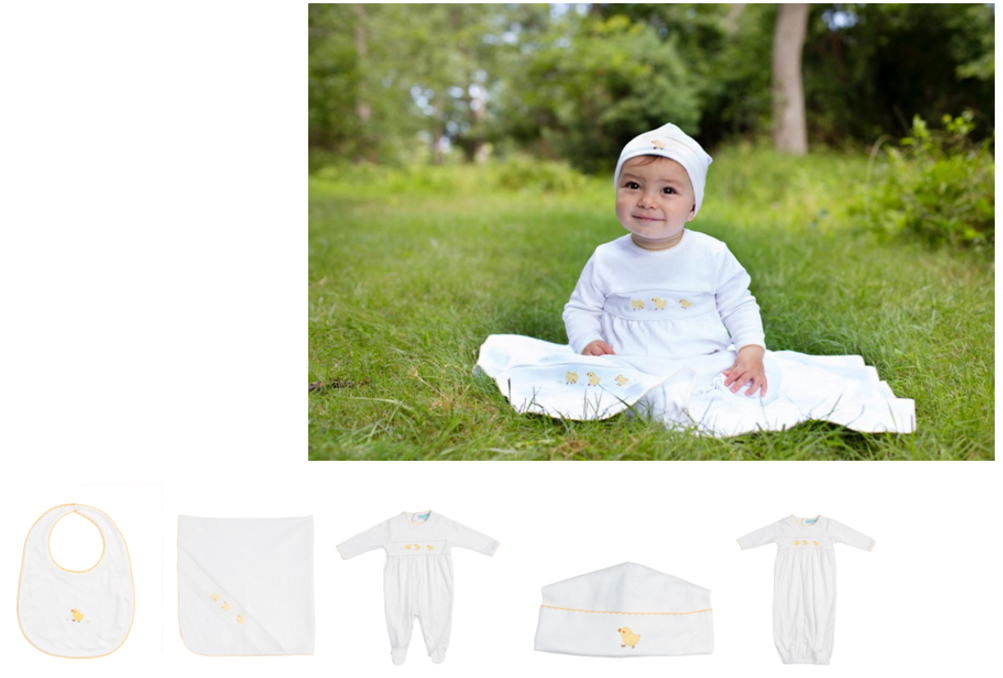 From left to right: Bib $20.75; Blanket $58.50; Gown $59.50; Hat $18.50; Romper $61.50
Sailboat Design — Pima Cotton Collection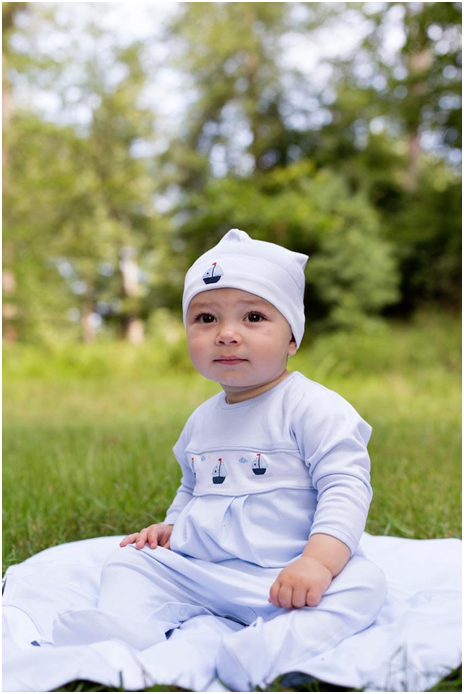 From left to right: Bib $26.75; Blanket $61.50; Gown $59.50; Hat $18.50; Romper $61.50
Blossom Design — Pima Cotton Collection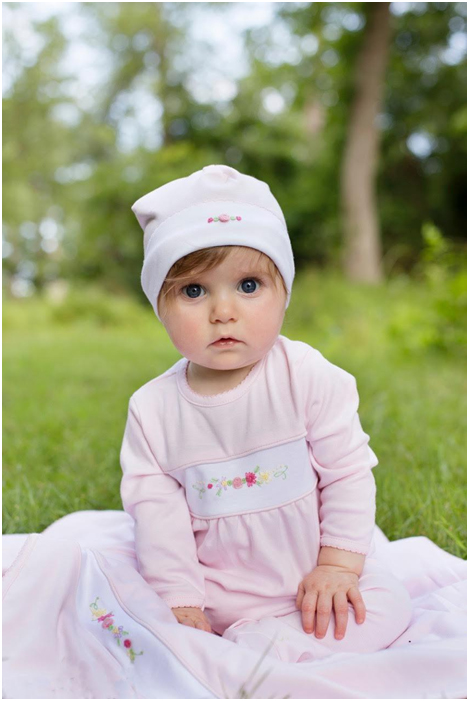 From left to right: Bib $24.75; Blanket $61.50; Gown $59.50; Hat $19.50; Romper $61.50
About Feltman Brothers
Since 1916, Feltman Brothers has been providing the world with authentic and timeless clothing for babies. This reputation is the result of a strong commitment to quality, incomparable fabrics, exclusive designs, and attention to detail. Feltman Brothers designs reflect the elegance of vintage styling for children from newborn through toddler, for all needs and occasions. Feltman Brothers' use of embroidery is a skilled craft and trade, with workmanship that has no equal. Feltman Brothers is, and always has been, a family business, now three generations deep and continuing strong, celebrating their 100 year anniversary this year!